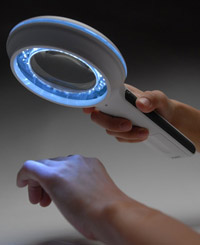 Glare-Free.
Unlike your standard lighted loupe, Lumio provides a bright image free of glare. This allows you to see into the skin as opposed to merely looking at the skin.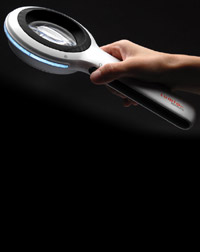 The Future of Skin Exams.
With its 40 LEDs and cross-polarization, Lumio sets new benchmarks for skin screening devices.
Lumio DermLite
Lumio is the ideal device for general skin exams where an in-depth, glare-free image of the skin is essential.

With its 75 mm lens offering a magnification of 2x, the power of 40 bright-white LEDs (light emitting diodes), and cross-polarization, Lumio is a great tool for a variety of dermatological exams: Varicose veins, pigmented skin lesions, hair follicles and much more.

Lumio is powered by AA batteries that allow for a minimum of 250 exams at 30 seconds each.

Model No. LUM is supplied with one Lumio, four AA batteries and one protective neoprene pouch.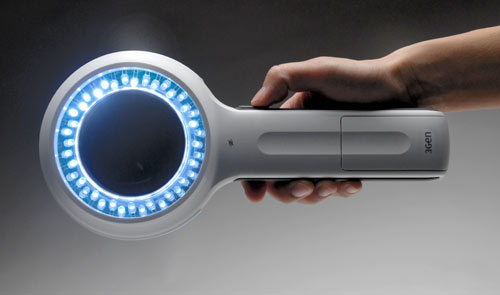 • permanent cross-polarization
• 40 LEDs
• AA batteries
• 75 mm 2x lens
• stylish, ergonomic design
• protective neoprene pouch
• Warranty: 10 years (for sales after 1 July 2018)